Directional Valves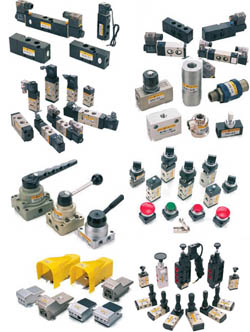 tarted 21 years ago, E.MC now supply various different types of directional valves(mainly spool valves) for 5/2,3/2,5/3 way, directional solenoid valves, directional air valves, directional SMC valves, directional hand valves, directional foot valves, directional rotary valves, directional mechanical valves, Namur valves, all etc.We also provide some important parts like armature, coil, valve body, etc. for many famous pneumatic brands.
Most parts of E.MC valves are manufactured and controlled by E.MC,valve body and head are machined by CNC machine from Taiwan, armature and spool are finished by long CNC machine from Japan, important seals are from Parker¡­¡­We check every part and test every valve when assembled, all of these guarantee E.MC valves high quality and stable function.
We also have our own mould workshop, which is very supportive to develop special valves as customer required, E.MC has a very professional team especially study and design customized valves and new valves for the potential market for the coming days.
Our standard valves are normally compactly designed, and for some Europe customers preferring bigger sizes, please check the PDF file for the dimensions.
If you wanted to know more about Directional Valves ,Please visit our Website:www.emc-machinery.com www.chinese-hisuppliers.com/emc/
Ningbo Guanghua Preumatic CO.,LTD.
Add:Xikou Industry Zone, Ningbo, China
Tel:0086-574-27664669
Fax:0086-574-87702889
E-mail:pneumatic@emc-machinery.com