T series tie-rod pneumatic cylinder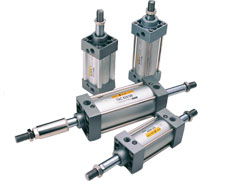 T Series pneumatic cylinder has two types Tie-rod type pneumatic cylinder and X type pneumatic cylinder, normal bore size from 32mm to 200mm, bigger size from 250mm to 600mm can also be provided.

We started to manufacture T series pneumatic cylinder since the very beginning of E.MC pneumatics & hydraulics foundation.Very experienced and every year improving technic and process guarantee excellent quality for the T sereis pneumatic cylinder.

E.MC pneumatics&hydraulics manufacture most part of the cylinder by ourselves, from die-casting, maching to assembling for better quality control. The cylinder end covers and piston are CNC machined, and important seals are from Parker, to guarantee the pneumatic cylinder work stably and safly.
If you wanted to know more about T series tie-rod pneumatic cylinder ,Please visit our Website:www.emc-machinery.com www.chinese-hisuppliers.com/emc/
Ningbo Guanghua Preumatic CO.,LTD.
Add:Xikou Industry Zone, Ningbo, China
Tel:0086-574-27664669
Fax:0086-574-87702889
E-mail:pneumatic@emc-machinery.com