Pneumatic Cylinders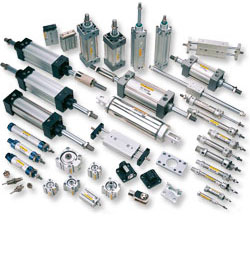 E.MC pneuamtics started designing and manufacturing pneumatic cylinder at the very beginning, and now we have a wide range of pneumatic cylinders from standard cylinders to nonstandard cylinders, and from small bore size of 6mm to 600mm.
We have tie-rod air cylinder for Asia market and ISO6431/VDMA24562 standard pneumatic cylinder (both tie-rod and mickey mouse cylinder) for international market, also we have square cylinder according to DIN24335 standard, compact cylinder and ISO6432 round cylinders are in mass production, the double shaft, guided cylinder, slide cylinder, pen cylinder, needle cylinder are also provided as normal.
With 21 years sufficient expenrience and strong technique support, E.MC pneumatics also designs different kind of pneumatic cylinders according to customers requirement. For any special pneumatic cylinder requirement please contact us freely pneumatic@emc-machinery.com .
High quality is always considered as one of the most important E.MC culture and team spirit style. From the cylinder end cover, to piston, seal, bolts every parts of E.MC pneumatic cylinders are checked very strictly to make sure the quality is superior and can be supplied to any customer very proudly
If you wanted to know more about Pneumatic Cylinders ,Please visit our Website:www.emc-machinery.com www.chinese-hisuppliers.com/emc/
Ningbo Guanghua Preumatic CO.,LTD.
Add:Xikou Industry Zone, Ningbo, China
Tel:0086-574-27664669
Fax:0086-574-87702889
E-mail:pneumatic@emc-machinery.com