R series Al and SS mini round cylinder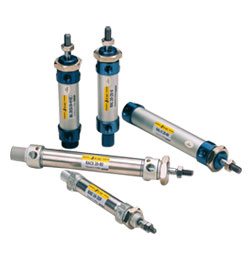 we ave two types for R series mini pneumatic cylinders, Aluminium (barrel) type and stainless steel (barrel) type, normal bore size from 16 mm to 40mm. We manufacture most part of the cylinder by ourselves, from die-casting, maching to assembling for better quality control. This kind of mini pneumatic cylinder is completely finished by our CNC machine from Japan,except the assembling. We can change this style of mini cylinder to different apperance pneumatic cylinder as customers want.
eatures:
The aluminium style cylinder cover and barrel are threaded together, and the stainless steel style cylinder cover and barrel are pressing together.
R series mini cylinder can be easily changed to different appearance according to customers requirement.
Three style for back end cover, swiveling tail, round tail and flat tail
Adjustable cushion is optional for working more stable if necessary.
With self-lubricating bearing, the piston rod is lubrication free.
Magnet and sufficient Fixing styles are available.
If you wanted to know more about R series Al and SS mini round cylinder ,Please visit our Website:www.emc-machinery.com www.chinese-hisuppliers.com/emc/
Ningbo Guanghua Preumatic CO.,LTD.
Add:Xikou Industry Zone, Ningbo, China
Tel:0086-574-27664669
Fax:0086-574-87702889
E-mail:pneumatic@emc-machinery.com